October 26, 2020

Inferno destroys best sprinters in Lion City Cup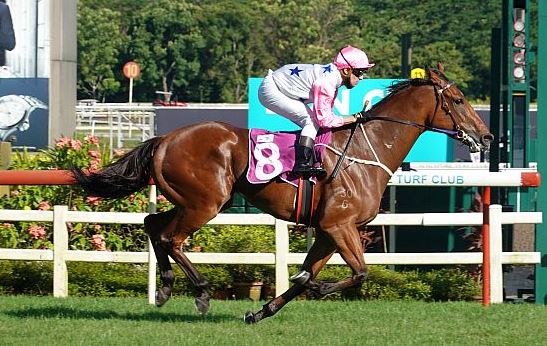 The epithets may be running scarce but a few unused glowing terms still came out in praise of Inferno following his exhibition gallop in the $400,000 Group 1 Lion City Cup (1200m) at Kranji on Sunday.
In his typically economical debriefing style after the country's premier sprint, trainer Cliff Brown said the Holy Roman Emperor four-year-old was "something else".
A few minutes later, after emerging from the jockeys' room, Vlad Duric said he had never ridden any horse quite like Inferno in Singapore.
Brown had expressed some misgivings about the drop from the mile at his last victory in the Group 1 Singapore Guineas on September 26 to the six furlongs, taking on the cream of the sprinting crop at Kranji, mostly seasoned competitors at level weights, for the first time.
The Australian needn't have lost sleep over it.
Given a peach of a ride by Duric in his customary rearward spot, Inferno had the word "winner" written all over the moment he was squeezed for his trademark peripheral launch from the 600m.
Upfront, early leaders Aramani (Simon Kok Wei Hoong) and Fame Star (Marc Lerner) had gone like the clappers. The field bunched up as the closest challengers came from Zac Kasa (Azhar Ismail), Skywalk (Ryan Munger), Excelling (A'Isisuhairi Kasim) and Surpass Natural (Juan Paul van der Merwe) came underneath the weakening pair.
Fellow Newhaven Park graduate, Zac Kasa was being hailed the winner when he hit the lead with 300m to go, but for all his gameness, and that of the other closers – like Mr Malek (Ruan Maia) and Grand Koonta (Louis-Philippe Beuzelin) – in hot pursuit, they were left clutching at straws when Inferno ran on by.
In the twinkling of an eye, Barree Stable's superstar rounded up his opponents one after another with Duric sitting pretty atop, and probably just holding the steering aids straight, especially as that habit of laying in when he is hurtling down at warp speed is still noticeable.
The race that had been billed 'tricky' or 'too sharp' for Inferno was put to bed like he just had his 15 rivals for breakfast.
Eased down towards the line, the $9 favourite had two and a quarter lengths to spare from Mr Malek as he jogged towards his second Group 1 silverware a month after capturing his first in the Singapore Guineas.
With a slick winning time of 1min 8.28secs for the 1200m on the Short Course, just a tick under half-a-second outside the 11-year-old course record held by Sacred Kingdom in the KrisFlyer International Sprint in 2009, one cannot help wonder if he could not have tested the record had he gone flat to the boards.
The pleasant surprise came from this year's Group 3 New Year Cup winner Nowyousee (Noh Senari) who steamed home late for third place another half-length away, just denying Zac Kasa of a podium finish by a head.
Not one given to exuberant post-race reactions, Brown still showed his huge relief, especially after he knew he had pushed the envelope for that extraordinary winner of eight races from nine. Clearly, he is carrying the mantle of heir apparent to Brown's and Barree's just-retired iconic champion Debt Collector very well.
"He's quite something else, isn't he?" said Brown in sheer admiration of the effortless manner Inferno put some of the best sprinters at Kranji to the sword.
"To come back from the mile to 1200m, it's very hard to do, but he did a great job. This horse is just getting better and better.
"I'm very pleased. I'll wait a while and decide what next, but to be honest, I'm not sure what is next for him.
"There isn't much left for him. We may wait for a Class 1 race or we may even give him a break, we'll see how he pulls up."
While a third Lion City Cup (after Newhaven bred and sold Zac Spirit in 2014 and 2016) eclipses all other emotions in the wake of such a feat, Brown could still spare a thought for the gallant Zac Kasa.
The Reset six-year-old grey may not have the same class as either Inferno or his illustrious Zac stablemate Zac Spirit, but he did Brown proud with his fourth place.
"Zac was fantastic, he was excellent. It's just that Inferno is just a few lengths better than him, but he ran enormous," he said.
Duric was as usual cool as a cucumber before, during and after the race, even joking that Brown sported an unusually more serene disposition in the parade ring, but after an unblemished record of four wins from as many rides aboard Inferno, the three-time Singapore champion jockey made the big call that all Inferno fans wanted to hear.
"I haven't ridden a horse like Inferno in Singapore," said Duric, who fell short of making the ultimate comparison with horses he rode in his entire career, which of course comprises Australia where he rode at the highest level, including capturing a Caulfield Cup with Master O'Reilly in 2007.
"It's just very exciting for Cliff, (racing manager) Chris (Bock), Glenn (Whittenbury of Barree Stable), and for the Singapore Turf Club. That's something the Club needs in those tough times, just to give itself a lift.
"All credit goes to Cliff and Chris. The horse came back from the Guineas and he was running over 1200m against older horses at set weights.
"It's funny. Cliff is usually very tense when his horses run, especially as he thinks so much of Inferno, he's with him every day, but he was pretty cool today.
"The horse is an absolute ripper. He's a wonderful horse."
The Australian hoop said he was one of the few who did not feel it was the end of the world after the barrier draws were known.
"When barrier 16 came out, I know Chris was a bit down," he recalled.
"For me, just knowing the horse so well now, I wasn't too fussed by 16. I could picture how the race would pan out in the lead-up.
"There were some good horses drawn close to me, like Mr Malek (14) and Grand Koonta (15) and I wanted to find the back of one of them. In the end I followed Mr Malek.
"In the race, I just let him show what he's made of and when I let him loose, he did it very, very easily."
With that facile win in the Lion City Cup, Inferno has now amassed around $900,000 in stakes money for the Barree Stable
Source: Thoroughbred News                                               Photo: Singapore Turf Club